What is CMS, and why would you need one?
Every eCommerce business needs CMS, be it a small one, a medium one, or even a large one. Why would you need one, though? To simplify, it allows you to change the content, design, and functionality of a website without touching the code or requiring any programming skills. Being able to edit the content as you like swiftly and precisely is very important whether you have an eCommerce website, a blog, or a corporate website. There are hundreds of services offering different functionalities, rates, and support.
What is the best CMS for a small business website?
We will find out, but let's get to the basics. Your best website builder must have all the following features.
Creating and editing content. To edit the contents of your website and responsive themes - to make sure your website runs well and looks good.
Technical sustainability. Small business CMS must also provide security, version control, and backup in case something goes wrong.
Marketing solutions. Don't forget about SEO tools and analytics plugins - they let you add new features and optimize processes.
The ability to migrate to another service. What if you need to upgrade to something bigger?
So, to the point. What are the best website builders for your small business?
1. OpenCart - free and functional CMS, yet with issues
Opencart is an open source, free-to-use ecommerce CMS system for business. Made by enthusiasts in 2007. This platform became one of the biggest for businesses of all kinds and sizes. This platform supports many professionally written extensions and plugins that might be useful for you. Having 13000+ themes and modules makes Opencart one of the best CMS systems.
With so much space for customization, you can find pretty much anything you need for your field - be it a nonprofit organization, a social network, or just an eCommerce website. Although this service does not require any payment, you can get premium support that will help you solve any problems for $99 / month. Opencart is also an easy-to-use and easy-to-maintain system that doesn't require special knowledge. If you run into a problem, you can always ask customer support, premium or regular.
Although this platform is free and pretty good at customization, it still has problems. Users say that the installation of modules and extensions is rather difficult. Marketing tools are hard to find and are limited. Back-end search and filters have really poor functionality. And, of course, there are technical problems: poorly indexed remote pages and the creation of duplicate files.
OpenCart CMS advantages & disadvantages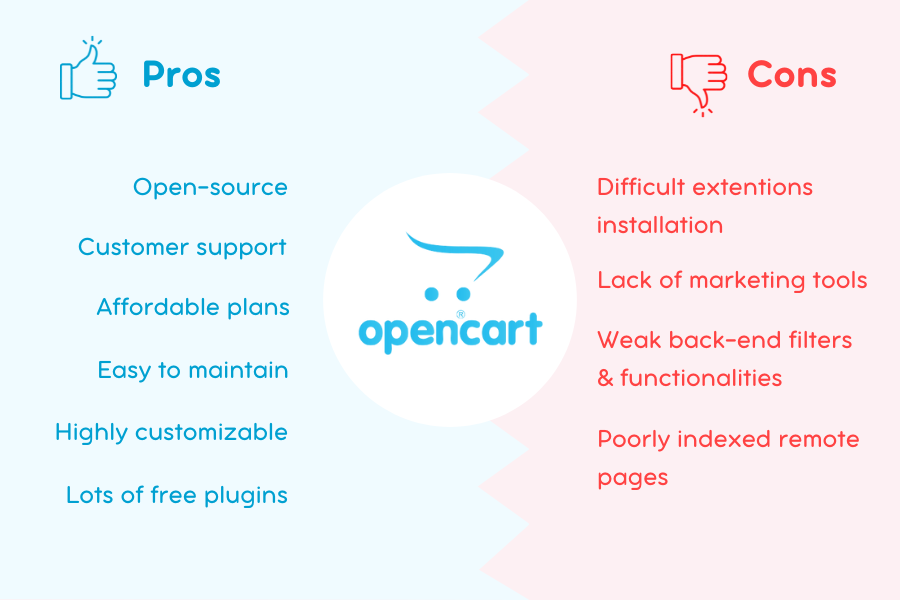 2. Shopify - effective CMS, but with strange policies
Shopify is an eCommerce website builder for small and medium-sized businesses. ShopifyPlus makes it possible to use in large businesses. This platform allows you to sell both online and at a retail location. Being one of the largest players in the market of CMS systems and having 160000+ clients in more than 100 countries, Shopify has clients like Tesla motors, Forbes, Gatorade, and many more.
Shopify is easy to use, especially for small businesses that have just started. It has many different templates and ways of customization, allowing you to make the store look pleasing to you and your customers. One of the most important things for eCommerce is, of course, payment. Shopify allows to implementation of payment systems that support credit cards easily.
There are still problems and big ones. Users don't like the unprofessional policy of Shopify. If there is an accusation of copyright, even a false one - they will cut off your entire store without noticing you. You can operate for years, have many reviews and clients whose data is stored within Shopify, and it will just delete it if you somehow violate their policy. Users also say that integrating social media platforms is terrible and time-consuming. Don't forget about the price - if you load your small to mid-sized business website with useful extensions and modules, you will need to pay $500-800 monthly or $6000-9600 yearly.
Shopify CMS benefits & flaws for small business
3. Wix - cheap, effective, but limited
Wix is a classic eCommerce website builder with a drag and drops feature, founded in Israel in 2006. This CMS for small businesses allows you to change and customize the website to your liking. If you have a commitment and a little interest, you can easily create a professional-looking eCommerce website. Versatile CMS allows you to fill your website just as you like. Customers also say that the integration with services like Google Drive, PayPal, and Zapier is fairly easy and not time-consuming. The easy-to-use user interface allows a new user to learn more features and tricks. Nice security that doesn't affect the speed of the website.
Now, to the cons. The plans on the website are not unlimited, so you won't be able to upload too much media, like videos and photos. The bandwidth is also limited, which is not good if you get popular. As users say, Wix lacks good user support, and things sometimes go wrong. Occasional crashes when trying to buy an online product result in sales loss. Addons and modules are poorly designed.
The good thing about Wix is its price - from $16 to $32 a month, which is 192$ and 384$ yearly.
Wix CMS pros vs. cons for small business website
4. WooCommerce for WordPress - free but complicated
WooCommerce is an open-source eCommerce plugin for WordPress. Designed for businesses of all sizes and released in 2011, this CMS is a great alternative. Free to use, but additional themes and add-ons require payment. WooCommerce makes it possible to set up a new, working store swiftly. Fully customizable - you can have any business and find the right template.
Another great feature is being able to get quarterly and yearly insight. Plugins are well designed and work perfectly fine, although some third-party plugins may cause problems. The ability to implement payment systems easily is a major plus, especially in a free solution. WooCommerce makes it possible to have blog-type pages mixed with eCommerce pages.
But what about the problems? Keeping in mind that WooCommerce is a plugin for WordPress, it can be confusing for a new user to figure out how everything works. When the new version comes out, you need to be prepared to find the problems caused by the update and find the solution. If you stumble upon poorly designed extensions, your website can crash.
Despite WooCommerce being free, you might still want to hire some freelancers to help you with setting up the website.
WooCommerce WP plugin strength & weaknesses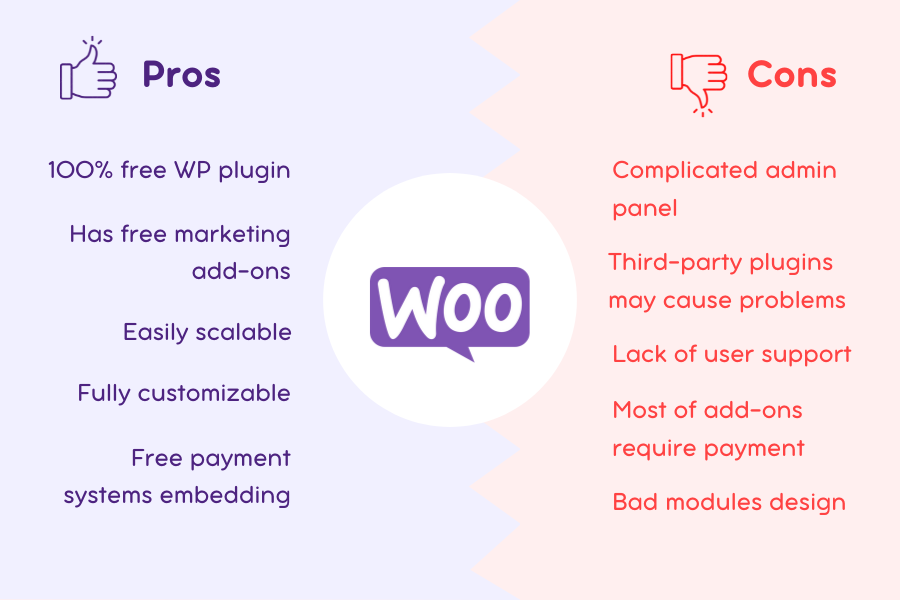 5. osCommerce - old, but still strong
osCommerce is one of the oldest CMS systems. Founded in 2000 in Germany, it's an open-source, free-to-use website building software. Despite being old, it's still a nice alternative to the big players like the ones above. osCommerce has a good balance between simplicity and complexity, allowing new users to get used to it.
Having not too many add-ons makes existing addons work nicely and have no problems working with each other on the website. It's easy to add features and functionality to the website depending on your business need. Many of the plugins and add-ons are free, just like osCommerce itself. The customization of the design is great, though a little rigid. The support of this platform is not as good as the others: documentation is weaker, meaning you'll need someone familiar with osCommerce in case some technical problem occurs. The code is not modern but lightweight, which will load and work faster. Security is objectively bad - so your website can easily be hacked.
In conclusion - osCommerce is a free platform with many great features but is still old. You will need to hire an experienced osCommerce professional to build your website and make it as functional as you need.
osCommerce CMS pros vs. cons for small business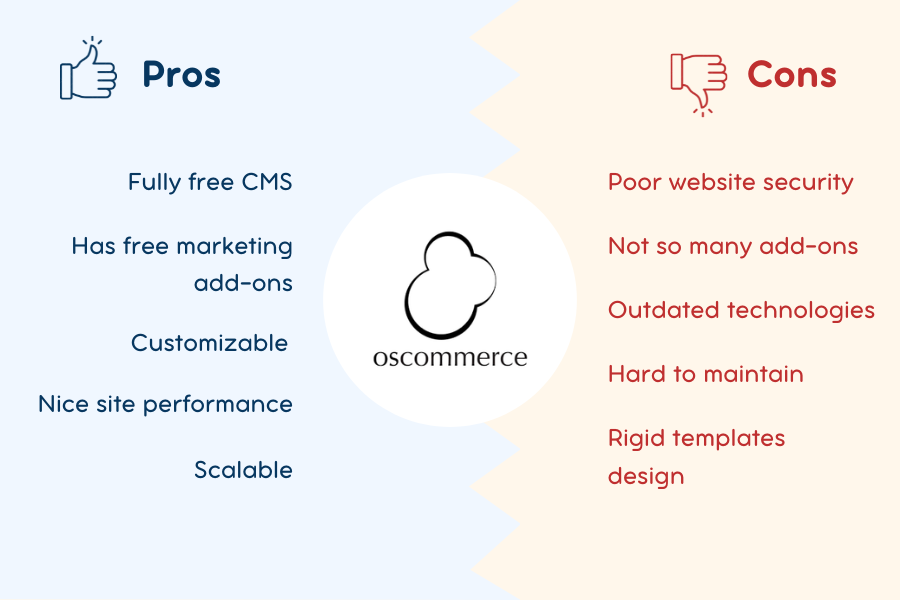 6. BigCommerce - functional CMS, but with a ceiling
BigCommerce is among the most modern and functional website builders for your small business. This Australian company, founded in 2009, makes it possible for your small business website to have enterprise-level features and tools.
BigCommerce has a great choice of templates that you can customize to your liking. If you are capable of some HTML and CSS, you can use those to change the templates too. With BigCommerce, you have design freedom. One of the greatest pros of this platform is scalability - you can make the website larger and larger as you grow. Lower and cheaper plans have many features and options, which is great for small businesses.
Files and media storage are unlimited, which allows you to add as many products as you want. Although, you have revenue limitations on lower plans, meaning they won't let you sell more products than you agreed on when you were choosing a plan. Getting a truly customized website can be a challenge, so you might want to hire someone with web development skills.
Users also say that support is not always aware of the problems that occur on websites, so it can be hard to explain the problem and find the solution. If you want your website to have more than basic features, you will likely have to hire someone, although low plans for BigCommerce have the most functionality compared to other solutions. The plan of your choice can cost you from $29,95 for a basic plan to $299,95 for a pro plan monthly, or $359 and $3594 yearly.
BigCommerce CMS advantages & disadvantages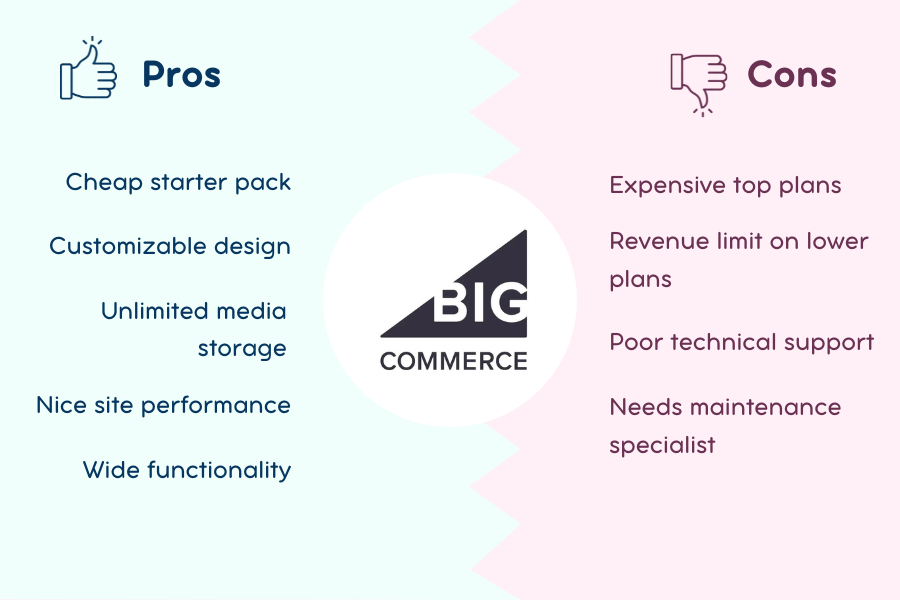 7. Big Cartel - cheap and nice, but no room to grow
Big Cartel was founded in 2005 and, since that year, has been targeting artists and small businesses. This platform is a cheap and reliable solution for small businesses, although it's pretty difficult to scale. With the free plan, you can add up to 5 products and sell them with online payment and shipment tracking.
Higher plans include more features: google analytics, adding more products, inventory tracking, etc. Overall, Big Cartel is a nice CMS for really small businesses and artists but is too limited to grow. The payment system choice is small, so not every customer will be able to proceed with payment.
There are few templates, and they are not as customizable as the ones on other platforms. The software is very limited in many aspects. The basic plan is free, the higher one will cost you $9,99 / month, and the highest one is $19,99 / month, which is $119,88 and $239,88 yearly. In conclusion, if you have a really small business with little room to grow - Big Cartel is a great choice. But if you plan on expanding and scaling your business, you better choose something different with better functionality, security, and customization ability.
BigCartel CMS benefits and flaws for small websites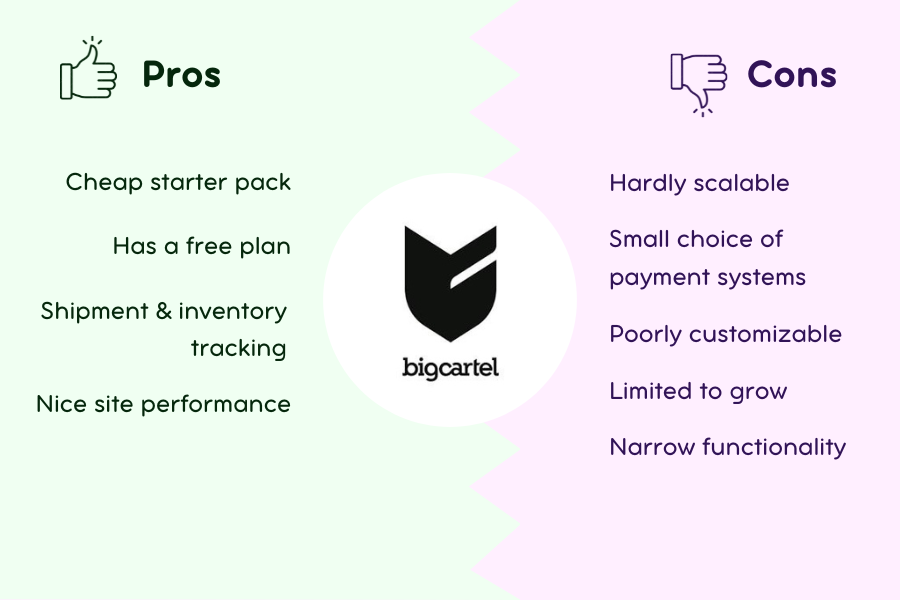 8. PrestaShop - free, but not entirely
PrestaShop is a leading CMS solution in Europe and South America. Released in 2007, this french company offers free, open-source CMS for businesses of all sizes. Prestashop is easy to install with a guided setup. This platform works with third-party design websites, which gives you a big choice of templates. PrestaShop also has a big selection of add-ons, so you can add some excellent features and make a website more field-specific. This platform is pretty easy to use and learn - so you won't have to hire some experienced freelancers to set up and customize your shop.
Some users have problems with add-ons and modules, which, by the way, will cost you additional money. Said addons are buggy, and PrestaShop staff doesn't always fix them right away, which can cause problems on your website. On the forum, there are years-old problems that are not yet fixed. Some websites that you might want to integrate don't support the PrestaShop.
Templates can also be expensive: more modern designs will cost you much more than simpler ones. The website's architecture is quite heavy, so you will probably need to buy better hosting, which can be expensive. The add-ons can cost you anywhere between $35 and $6000.
PrestaShop CMS strength and weaknesses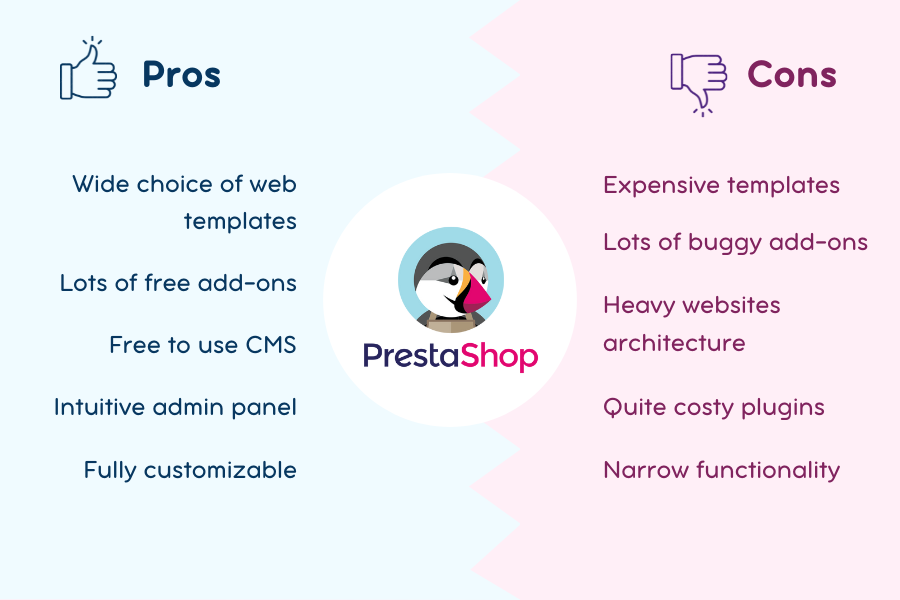 9. Weebly CMS - trusted and reliable, but still not perfect
Weebly is one of the most established CMS platforms on the market. Created in 2006, this Californian platform targets businesses of all sizes, from small to enterprise.
Easy-to-use and intuitive interface contribute to a good experience for business owners and entrepreneurs that want to create a website. Weebly is one of the best choices if you don't have any experience creating websites on your own. With quality templates and easiness of use, you're free to create a professional-looking website on your own.
Weebly allows you to have an all-in-one solution: you can have a blog, eCommerce, and email marketing on the same website. This platform has a nice CMS helping you manage everything with ease. Though, there is a ceiling. When your business grows, you might want to switch to another platform because you can't make your website as business-specific as you might need to.
Customization is easy, but if you want to really customize the template, you will find that frustrating. Integrating other hosts is tricky and complicated, so you will probably need to stick with Weebly hosting, which cannot be enough for a large business with big traffic. There is also a choice of paid plugins, which can cost you more than expected while designing your website. There is a free but very limited version. Paid plans will cost you from $5 to $30 monthly, not including the hosting and plugins.
Weebly CMS pros and cons for small business

10. Joomla - easy to use, but hard to set up
Joomla is an open-sourced CMS with a free version for business. Being an old player in the CMS field, Joomla has been powering millions of websites since 2005. This platform support websites of all kinds, be it a magazine or online shop.
Joomla has some really good benefits, like being easy to extend and scale to your growing business. Users like that the administration panel isn't hard to navigate. The database structure is well-designed and separated understandably, which makes optimization easier.
Web applications are easy to find and install. And one of the most important features: it's easy to use Joomla and create a website with no technical knowledge. Although, you might need to know some PHP to extend the website.
The security on Joomla is not too good: your website can easily be hacked when something updates and something that your website depends on can crash and stop working. Some plugins and add-ons are not always compatible, making running a website harder. Generally, if something is not compatible with something else, the website just won't run. The main function (posting content) is outdated compared to other solutions and not as intuitive.
Joomla has a free version, though you will have to use the subdomain. With paid plans, you can use your domain. Paid plans begin from $100 per month for Personal Plan and can cost you up to $400/month for the Agency plan.
Joomla CMS pros & cons for your business

Best CMS for a small business: final comparison
Here is a spreadsheet to give you a better understanding of the options:
| | | | | | | | | |
| --- | --- | --- | --- | --- | --- | --- | --- | --- |
| CMS | Has a free package (not a trial) | Starter pack price (per month) | Provides free hosting | Possibility to add and edit products | Has free SEO plugins | Responsive for mobile devices | Possibility to migrate to the other CMS | Scalability (in case of business growth) |
| OpenCart | + | - | - | + | + | + | + | + |
| Shopify | - | 24$ | On higher plans | + | + | + | + | + |
| Wix | + | 4.5$ | + | + | + | + | + | + |
| WooCommerce | + | - | - | + | + | + | + | + |
| osCommerce | + | - | - | + | + | + | + | + |
| BigCommerce | - | 29.95$ | + | + | - | + | + | + |
| Big Cartel | + | 5$ | + | + | + | + | + | - |
| PrestaShop | + | - | - | + | - | + | + | + |
| Weebly | + | 4$ | + | + | + | + | + | + |
| Joomla | - | 99$ | + | + | + | + | + | + |
Need help choosing the right CMS for your busines?
Whatever CMS you choose, Tagfultech is here to help your small business go online for an affordable price. Since 2013, we have been helping businesses achieve their goals with professional development and marketing. Get in touch, and we will help you to pick the best solution for your business. And remember, we are not trying to sell our services to you,. Our priority is to help, using our expertise and experience in this field.